Our history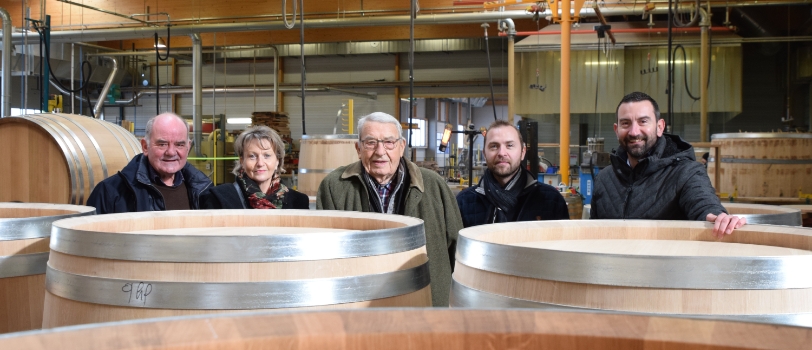 It all started in 1954 with Julien Rousseau. At that time, he started the Tonnellerie Rousseau to focus on large formats. The company quickly became a family business: his 2 sons, Jean-Marie and Guy, joined the ranks of Rousseau coopers in the 1970s and 1980s.
In 1990, Jean-Marie Rousseau took over the management of the company, with the support of his wife Nicole, who joined the company to manage the administrative and financial part.
The next generation arrived in the 2000s! Jean-Christophe Rousseau in 2001: he joined the family business as a "foudrier"(cooper specialized in large vessels),once graduated from a cooperage trade school in Cognac.. He became director of the large vessel workshop in 2007. After studying business management and starting in finance and trade, he joined Tonnellerie Rousseau as sales director.
This complementarity between the two brothers is the strength of this 3rd generation, officially at the helm of Tonnellerie Rousseau since January 1, 2021. It is their turn to contribute to the family business which will soon be celebrating its 70th anniversary.
A great story of transmission that Tonnellerie Rousseau shares with its customers: "We have customers who have followed us from the very beginning. They also passed on their estate from generation to generation and today we work with the grandchildren of our grandfather's clients," says Frédéric.
We fell into the barrel business when we were little !
Frédéric & Jean-Christophe Rousseau
1954



Creation by Julien Rousseau
The cooperage originally specialized
in building and renovating large formats.


Jean-Marie Rousseau
Julien's son, decided to manufacture barrels as well.


The workshop
settles in Couchey,
in Côte de Nuits


Beginning of the barrel manufacturing activity
under the leadership of Jean-Marie
Rousseau,  Julien's son


Jean-Marie Rousseau
becomes General Manager


Nicole Rousseau
joins the company


Beginning of
exportation towards the US

Jean-Christophe Rousseau
joins the company


Frédéric Rousseau
joins the company as well


5 coopers
"Best Craftsmen of France" including Julien Rousseau.

Launch of the 1st barrel of the Expert range, called PIANO®

Once again,
5 coopers,
« Best Craftsmen of France », including Jean-Marie and Jean-Christophe Rousseau


As a tribute to the Best Craftsmen,
the new VIDEO® barrel is launched as part of the Expert range


Rousseau obtains the
PEFC certificate


We're 60 !
The large formats
workshop moves in brand new facilities
in Gevrey-Chambertin


A new « Cooper» is named "Best Craftsmen of France".


Launch of the 
Hexagone series


Commitment to 
restoration of forests


Extension of the log
storage platform 


Transmission of management
to children,
parents retirement.