15.04.2014
The company
Rousseau celebrates its 60th anniversary with the "60" anniversary barrel
1954-2014 : 60 years of history, 60 years of passion, 60 years of adventures, know-how, constant search for quality and we hope you agree, of a job well done. 60 years of working hand in hand with winemakers to understand their needs, and to find ways to elevate the many wonderful expressions of the grape. To celebrate its 60th anniversary, Tonnellerie Rousseau launches a limited edition barrel called "60".
What are the characteristics of « 60 » ?
Inspired by our video® barrel, launched in 2008 as a tribute to the 10 Best Craftsmen of France trained by the cooperage, and largely acclaimed on the French and overseas markets, « 60 » maintains the characteristics of video® (extra-tight grain selection, elegance, finesse, irreproachable finishing…)
"60" also refers to our geographical position in the Côte de Nuits and is therefore designed for red grapes, fine wines with a strong character.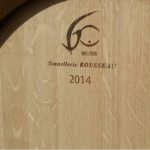 Our French oak selection (a mix of French forests that fosters an interesting harmony) with extra tight grain and our special toasting will bring to the wine volume, depth, sweetness and length, without hiding its original characteristics. It is obviously recommended on long wine ageing period to benefit from all its potential.
Why create «60» ?
As Frédéric Rousseau, Sales Director for the cooperage, emphasizes : « For our 60th anniversary, we wanted to create a barrel that would symbolize our work and our know-how, on which the cooper's influence could be both discreetly noticeable and elegant. Using our experience gained with our Expert range and working from our Video barrel®, already appreciated by winemakers, was an evidence.
Though the "60" barrel is available in limited quantities, we have made sure this barrel remains affordable, keeping in mind our core philosophy: offering our customers quality barrels at reasonable prices.»
60 is available in limited quantities (300 barrels, numbered) from April, 1st, 2014.
To get more info : contact@tonnellerie-rousseau.com